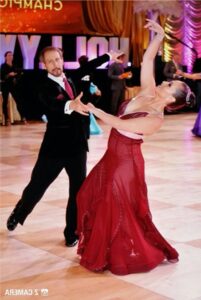 If you have ever watched "Dancing with the Stars ", the TV show series, then you have a basic idea of the intensity level that Amateur Competitor Ballroom Dancers undergo while training and competing. In the United States, most competitive Amateur Ballroom Dancers pair with professional dancers, just as the celebrities do in the TV series, to train and then compete in front of professional judges, at NDCA sponsored PRO/AM Dancesport Competitions. There are over 100 NDCA competitions held throughout the United States each year. Unlike the celebrities, PRO/AM dancers compete in multiple heats during the competition day and evening, in order to get into a final. Each heat consists of up to 8 or more couples on the floor at the same time, all dancing different choreography to music of a specific dance style. The music played is a song that they may or may not have heard before. There are 6 judges that use a specific scoring system that ranks each dance couple in the heat, which in turn determines whether the dance couple makes it to the next round or final.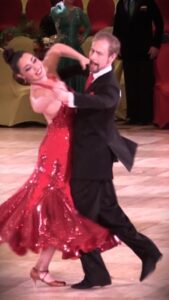 As an Amateur Male Ballroom Competitor, the last 12 years, I've had the pleasure of partnering with two very talented female professional dance instructors that I have both trained and competed with, and a multitude of world recognized professional coaches and choreographers. (Many of whom have worked on Dancing with the Stars, as well as other TV shows and movies). It continues to be a wonderful and satisfying journey, but one that has taken a certain toll on my body. Today, I'm dancing at the top Pro/Am Advanced level utilizing Open Choreography (not limited by any syllabus) in the American Smooth dance style. The American Smooth dance style consists of Waltz, Tango, Foxtrot, and Viennese Waltz. I continue to train 4 days a week, averaging 2-3 hours a day, at Mary Murphy's (So You Think You Can Dance TV judge) Champion Ballroom Dance Academy in San Diego, California. I've had to replace both of my hips due to arthritic pain, but my physical capabilities and endurance are as good, and in some ways better, as when I started ballroom dancing at age 58. Though having just turned 70 years old, I'm still able to keep up with my female dance partner who is half my age. All in all, I feel very fortunate and satisfied in what I have achieved but continue to push myself a little harder each day to get to a higher level of dance proficiency and performance level.
If you ask me how I can do it, I won't say it's because of my genes, though my grandfather lived to 103, but through the willingness to work through physical issues and find solutions to the physical obstacles that occur in any athlete's body as they age, or as they incur injuries. Of course, maintaining the proper healthy diet has helped. But also continuing to learn how to maintain one's body is my secret recipe to elongating my participation in the sport.
Learning about how my body works has helped me determine what equipment and workouts I need to do to maintain it. Ballroom dancing has been my most challenging sport, compared to others I've participated in over the years (tennis, swimming, baseball, basketball, golf, etc.), and so I needed to spend extra time learning how to condition and recover my body for this specific sport.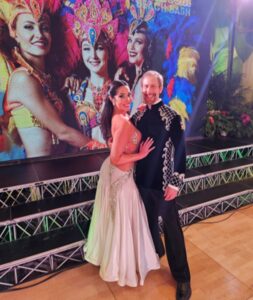 In order to train my body to dance correctly, it's important that I have the right equipment. Besides of course good dance shoes, I need a good set of workout clothes. Clothes that help my body to perform, as well as recover from the repetitive strenuous training that goes into creating a good performance. During my daily stretch warm-up period, prior to going to the dance studio, I usually wear my Skin's trunks and/or Series 5 tights during my yoga and resistance training sessions for performance level stability of my hip joints and related muscles. During dance practices, I wear compression socks and Series 1 compression trunks/half tights. Then during my post-stretch periods, following dance practices, I wear the full length Series 1 compression tights to help re-oxygenate and recover my calf and hip muscles. I'm also finding, that like any new product, its best to wear compression clothes for short periods of time, at first, and as my body acclimates to them, I'm able to wear them longer, and perform better and recover quicker.
Overall, I have found my Skin's compression products to be of high quality. They help me perform better, by increasing my muscle and joint stability, and provide a significant decrease in recovery time. Over time I have incorporated different Skin products and Series compression levels into my stretching, yoga, resistance training, and dance workouts. They have become an integral part of my body conditioning and maintenance program.
To discover more about SKINS Compression products and how they help high level elite athletes get the MAXIMUM muscle performance during their sports activities AND faster muscle RECOVERY, click on the following image or QR Code: